Description
---
ORGANIC AGAVE NECTAR 
Organic Agave Nectar is mainly produced in Mexico, agave (pronounced 'uh-GAH-vay'), is a syrup that is made from the Agave tequiliana (tequila) plant. It is about 1 1/2 times sweeter than regular sugar and contains roughly 60 calories per tablespoon, which is about 20 calories more than the same amount of table sugar.
Organic Agave Nectar
560 gr / 23.28 oz
In spite of being denser in calories, agave manufacturers are directly marketing diabetics because it is supposedly lower on the glycemic index(a number that represents the effect a particular food has on someone's blood sugar). However, these claims don't seem to be founded on sound science. A growing number of sources are calling out an elephant in the room that, "There's NOT a lot of research to back that up, and one of the studies was done in lab animals, not people!" 
Nutrition Facts
The fact remains that there's much more to the story than the so-called "low glycemic load."
As it stands, one ounce (28 grams) of agave contains a glycemic index of about 13, 20 grams of sugar, and 1 gram of fiber.  Unfortunately, when it comes to agave nectar nutrition, this is about it!
Every time you consume excess sugar your white blood cells' ability to ward off disease is literally dampened for several hours.  This does more than you may think and, when you look at the research, the dangers of sugar are quite shocking. According to Nancy Appleton, Ph.D., there are 141 ways that sugar destroys your health.
When someone learns how sugar can cause cancer, the danger of this tasty morsel usually hits home. In the words of the American Anti-Cancer Institute,
When we consume sugar, we are simultaneously shutting off our defenses while pouring gasoline on the fire that is Cancer. When we take into account that "50 to 70% of our total immune system cells cannot see cancer… even on our best day," the notion of adding it to our diet seems even more blasphemous. 
AGAVE NECTAR vs. Sugar & High Fructose Corn Syrup?
In the words of Dr. Jonny Bowden, Ph.D., C.N.S., "Agave syrup (nectar) is basically high-fructose corn syrup masquerading as a health food." (16)
In its original, natural form extracts from the agave plant contain strong antioxidant and anti-inflammatory properties. However, none of these beneficial elements are present in the agave that we see in the stores. This is why most natural health experts agree that agave nectar isn't all that it's cracked up to be:
It has a low-glycemic index because it's largely made of fructose, the single most damaging form of sugar.
It has the highest fructose content of any commercial sweetener on the market.
Compared to the 1:1 fructose/glucose ratio of sugar and high fructose corn syrup, agave nearly has a whopping 2:1 ratio.
According to Dr. Bowden,
"Research shows that it's the fructose part of sweeteners that's the most dangerous. Fructose causes insulin resistance and significantly raises triglycerides (a risk factor for heart disease). It also increases fat around the middle which in turn puts you at greater risk for diabetes, heart disease and metabolic, syndrome (AKA pre-diabetes)." (16)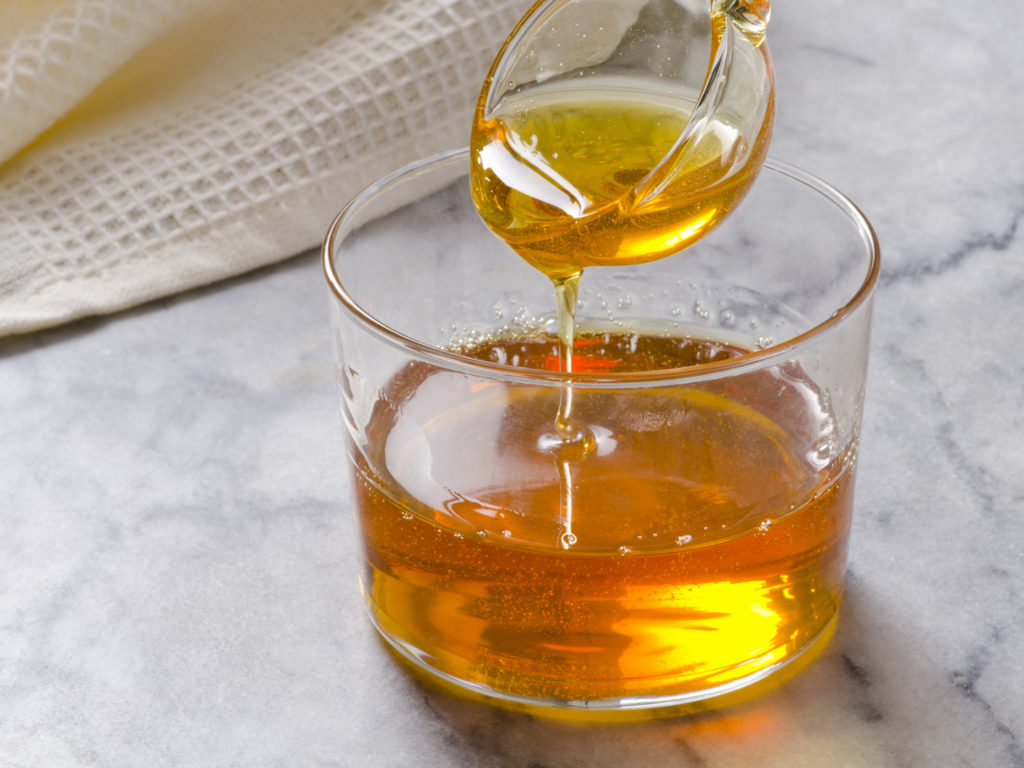 The same with high fructose corn syrup.
Manufactured mostly from genetically modified corn, HFCS is anything but natural and anything but healthy. The primary ingredient in most sodas, baked goods, and many canned products HFCS is processed by enzymatically converting glucose into fructose. It is exceptionally inexpensive to manufacture, which makes it highly desirable as a sweetener for most food companies. It is also exceptionally dangerous for human consumption. This is just a sample of the many reasons why high fructose corn syrup should be banned from our food supply:
Americans consume an average of 50 grams of HFCS every day and the American Nutrition Association has stated that, According to the American Heart Association (AHA), the average adult in the United States takes in 22 teaspoons of added sugar a day, or a whopping 150 pounds a year, while teens pile in 34 teaspoons a day. That's more than twice the amount of sugar we should be eating." 
And if this weren't enough, the real danger is that sugar and high fructose corn syrup are literally everywhere and completely impossible to avoid if your diet consists of processed, fast foods!
---
Agave Nectar Other Uses
Agave Nectar Hair Mask With Olive Oil for Super Soft Nourished Hair
I decided to try my old school number 1 hair treatment for baby soft hair without the key ingredient…HONEY! Deep treatment of honey and olive oil used to bring my hair to LIFE, moisturizing and softening my type 4 hair! So, now I'm replacing the honey with Agave Nectar, and guess what, it worked!! If you're not familiar with what Agave Nectar is, check out this post we wrote on it here!
What You Need
Step 1: Add Olive Oil and Agave Nectar into a bowl
TIP: Warm this mixture using the hot water bath method for better results. Add hot water to a heatproof bowl, then place a second heatproof bowl containing the hair mask mixture on top of the bowl with hot water. Then mix carefully.
Step 2: Section your hair into 4. Slightly dampen a section of your hair with distilled water then apply the hair mask from root to tip. Make sure you show the ends of your hair some extra love and care, be generous with that hair mask!
Then proceed with the rest of your sections.
Step 3: Once your hair is covered in the hair mask. Apply a plastic cap to your hair and let this sit for at least 20 minutes.
Tip: For SUPER DRY HAIR let this sit overnight OR, have a shower, and let the steam from the shower hydrate your hair. The Agave Nectar will help to draw the moisture from your shower deep into your hair strands.
Step 4: Rinse this treatment out with water then dry and style as usual with a leave-in treatment!
You can follow up with your usual wash routine, however, we prefer to use this treatment after we've applied shampoo.
---
Customers who bought this item also bought
---
Packing Details
Vacuum packing is a method of packaging that removes air from the package prior to sealing. Shrink film is sometimes used to have a tight fit to the contents. Vacuum packing reduces atmospheric oxygen, limiting the growth of aerobic bacteria or fungi, and preventing the evaporation of volatile components.
Unit Type:

 P

iece

Carton Box

Package Weight:

 4

 lbs

Package Size:

 13.11in x 12.67in x 3.93in
---
Important Information
Legal Disclaimer
Actual product packaging and materials may contain more and different information than what is shown on our website. We recommend that you do not rely solely on the information presented and that you always read labels, warnings, and directions before using or consuming a product. Please see our full disclaimer below.
The information provided for this product is for educational purposes only. This information has not been evaluated by the Food and Drug Administration and is not intended to diagnose, treat, cure, or prevent any disease.
We recommend that you consult with your physician or qualified healthcare practitioner before making any significant changes in your diet.