Description
---
7 SUN'S HORCHATA CONCENTRATE DRINK MIX
Horchata Concentrate Drink Mix varies in taste across Latin America.
While in some countries the drink is usually tan and "milky", some recipes call for milk, and others do not. Other ingredients often include sugar, cinnamon, and vanilla. Though horchata was once typically homemade, it is now available in both ready-to-drink (shelf-stable or refrigerated) and powdered form in grocery stores. Horchata, together with tamarindo and Jamaica, are the three typical drink flavors of Mexican Aguas frescas.
What is Horchata?
This traditional Mexican beverage is sweet and refreshing.
Horchata (pronounced or-CHAH-tah) is a Mexican drink made with rice and is flavored with cinnamon and sweetened with sugar. The rice, sometimes along with some nuts or seeds, is ground and mixed with water to make a milky looking drink. It is served over ice as a cooling beverage in Mexico's hot climate.
Horchata's Journey
The roots of this drink stem from Egypt where they originally used the chufa nut to make horchata.
In ancient times, the drink made its way to Spain, where it is called horchata de chufa. When the Spaniards brought the drink to Mexico, the natives replaced the chufa nut with rice (although you can find the alternate chufa version in Mexico as well).
Drinking Horchata
This drink can be found in most Mexican restaurants and is often sold by street vendors in Mexico. Since it does not contain milk, it will not spoil as easily as a dairy-containing beverage.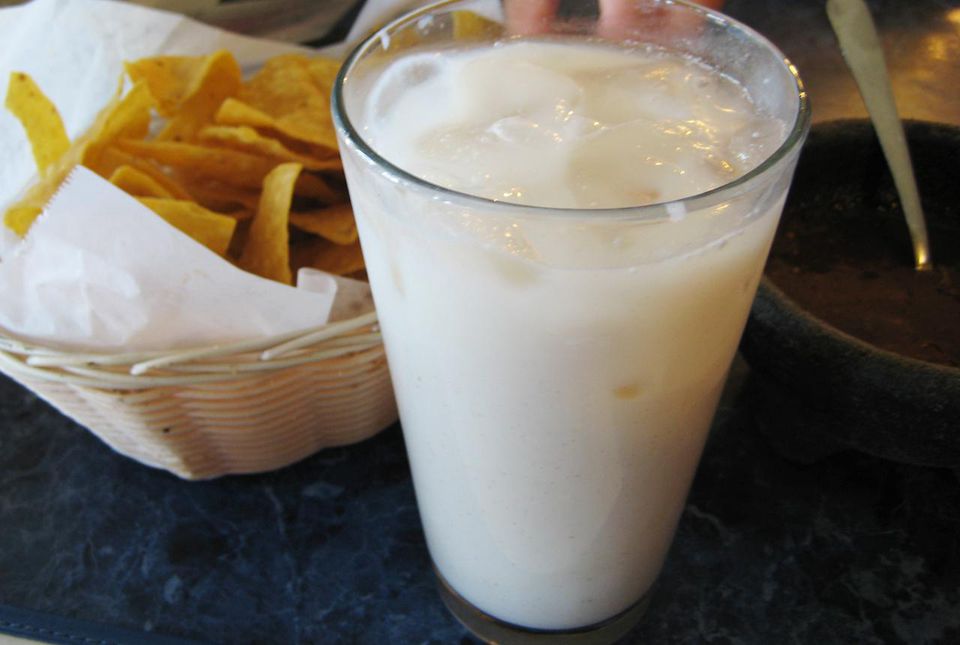 You can buy a horchata syrup, where you just need to add water, but it is easy (and will taste better) if you make your own horchata. You only need white rice, a cinnamon stick, sugar, and water, along with a blender and fine-mesh strainer. Although not the traditional version, you can add different flavors to the rice mixture for an interesting twist on this Mexican classic.
Horchata Rice Drink—Basic Recipe and Variation
One of the most popular of the Aguas Frescas, horchata (the h is silent: or-CHAH-tah) is common in most of Latin America. It consists of water and/or milk mixed with ground seeds or nuts (such as sesame or cantaloupe seeds, almonds, or others). In Mexico, horchata is most often made with ground white rice and cinnamon, and the result is unexpectedly refreshing. Although you can buy bottled syrups to which you need only add water to make horchata, this homemade version is so easy that it seems sensible just to prepare it from scratch.
What You'll Need
1 cup dry, uncooked long-grain white rice

1/2 of a cinnamon stick

1 teaspoon lime zest

5 cups drinking water

1/2 cup white sugar or stevia
How to Make It
Grind the rice in your blender until it is pulverized. Toss with a cinnamon stick and lime zest; let rest overnight.

Place rice mixture in the blender and blend until smooth. Add 2 cups of water to the mixture, stir, and let soak for 2 hours.

Strain the liquid through a fine sieve or a few layers of cheesecloth, squeezing frequently to remove as many of the solids as possible.

Add the rest of the water (3 cups) and sugar; stir until sugar is dissolved.

Refrigerate your delicious horchata. Serve over ice, if desired.
Some simple variations on Rice Horchata
Coffee Horchata: Follow the basic recipe, adding 1 or 2 teaspoons of instant coffee powder together with the sugar (step 4).

Coconut Horchata: Replace one of the cups of water with 1 cup of coconut milk (not coconut cream).

Strawberry Horchata: Add 2/3 cup of fresh or frozen strawberries to the mixture after step #3; blend until smooth.

Vanilla Horchata: Add ¼ teaspoon of vanilla essence to each serving of horchata right before serving.

Chocolate Horchata: Add 1 or 2 tablespoons of cocoa powder to the mixture after step #3; blend or stir vigorously until smooth.

Peanut Horchata: Add 1 tablespoon peanut butter to the mixture after step #3; blend until smooth.

Nut Horchata: Add 1/3 cup chopped pecans or walnuts to the mixture after step #3; blend until smooth.
If you enjoy this article and which to share with your Facebook, Twitter, Instagram, G+ and Pinterest friends please do so. Also if you need a recipe with Xcatic Pepper contact us.
---
Today Best Selling
---
Important Information
Legal Disclaimer
Actual product packaging and materials may contain more and different information than what is shown on our website. We recommend that you do not rely solely on the information presented and that you always read labels, warnings, and directions before using or consuming a product. Please see our full disclaimer below.
The information provided for this product is for educational purposes only. This information has not been evaluated by the Food and Drug Administration and is not intended to diagnose, treat, cure, or prevent any disease.
We recommend that you consult with your physician or qualified healthcare practitioner before making any significant change in your diet.
---