Description
---
PURE MAYAN MELIPONA STINGLESS BEE HONEY
Bee Honey! Mayan Melipona Stingless Honey Bee. 100% Pure Stingless Honey Bee a natural product produced by Stingless bees. Melipona Stingless Honey is one of the most effective natural products used for wound healing.
Melipona Honey 100% Pure
32 oz / 907 ml
Biological and therapeutic effects of Stingless Bee Honey
Honey is a natural product produced by both honey bees and stingless bees. Both types of honey contain unique and distinct types of phenolic and flavonoid compounds of variable biological and clinical importance. Honey is one of the most effective natural products used for wound healing.
The efficacy of these properties depends on the types of phenolic compounds present in the honey. … A small number of reports have documented the beneficial effects of stingless bee honey in different contexts, such as antimicrobial, antioxidant, and cataract studies and anti-inflammatory activity.
The antioxidant in stingless bee honey could break the chain of free radicals that cause a detrimental effect on the wounded area. Furthermore, the antimicrobial properties of stingless bee honey could overcome bacterial contamination and thus improve the healing rate.
Studies have shown than stingless bee honey contains as much as 4 times more active propolis enzymes than ordinary honey. 
Stingless bee honey in traditional healing is famously known as "Mother of Medicine" due to its potent medicinal properties like anti-aging, anti-microbial, anti-bacterial as well as an immunity booster. Stingless Bees produce different tasting honey which is a mix of sweet and sour with a hint of lemon. They usually nest in open tree cavities, rock crevices, or underground openings and their honey are stored in resin pots, which explain the special tangy and sour taste.
Stingless bee honey in traditional healing is famously known as "Mother of Medicine"
In this review, the traditional uses and clinical applications of both honey bee and stingless bee honey – such as :
antimicrobial

anti-inflammatory

anticancer

antihyperlipidemic 

cardioprotective properties

gastrointestinal tract diseases

neurological disorders

and fertility disorders and wound healing activit

y are described.
Pure Melipona Stingless Bee Honey
Stingless bee honey was used traditionally by native and folks to cure common sicknesses and diseases. Therefore, it is known as Mother of Medicine for its richness of natural medicine and healing properties.
Stingless Bee honey is believed to be beneficial for:
Contain active enzymes,

Contain lower reducing sugar (fructose and glucose),

Slow down the aging process,

Enhance the immune system,

Treat ulcers, cough, and throat sore,

Beautify and soothe skin,

Improve sleeping problems,

Replenishes energy and enhance stamina level,

Expedite the healing process of the wound, cut and burn,

Improve digestion and increase metabolism.
Follow in the footsteps of Queen Cleopatra, one of the most magnetic and seductive women in human history. Her big beauty secret? Honey. Historical documents say she relied on honey to keep her skin smooth, fresh, and moist… even in the scorching hot, dry Egyptian air. Honey sucks moisture from the air and stops your skin from drying out (giving you a healthy, youthful glow).
---
Modern Maya Beekeeping
Indigenous Yucatec and Chol in the Yucatan peninsula today still practice beekeeping on communal lands, using modified traditional techniques. Bees are kept in hollow tree sections called jobón, with the two ends closed by a stone or ceramic plug and a central hole through which bees can enter. The jobón are stored in a horizontal position and the honey and wax are retrieved a couple of times a year by removing the end plugs, called panuchos.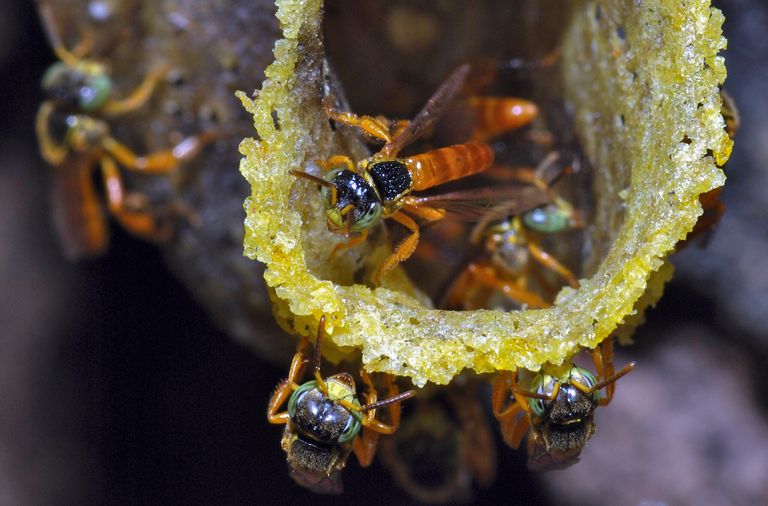 Typically the average length of the modern Maya jobon is between 50-60 centimeters (20-24 inches) long, with a diameter of about 30 cm (12 in) and walls more than 4 cm (1.5 in thick). The hole for the bee entryway is typically less than 1.5 cm (.6 in) in diameter.  At the Maya site of Nakum, and in a context firmly dated to the late pre-classic period between 300 B.C.E.–C.E. 200, was found a ceramic jobon (or quite possibly an effigy).
Archaeology of Maya Beekeeping
The jobon from the Nakum site is smaller than modern ones, measuring only 30.7 cm long (12 in), with a maximum diameter of 18 cm (7 in) and an entry hole only 3 cm (1.2 in) in diameter. The external walls are covered with striated designs. It has removable ceramic panuchos at each end, with diameters of 16.7 and 17 cm (about 6.5 in).
The difference is size may be a result of the different bee species being taken care of and protected. 
The labor associated with beekeeping is mostly protection and custodial duties; keeping the hives away from animals (mostly armadillos and raccoons) and the weather. That is achieved by stacking the hives in an A-shaped frame and building a thatch-roofed palapa or lean-to over the whole: beehives are typically found in small groups near residences. 
Maya Bee Symbolism
Because most of the materials used to make beehives—wood, wax, and honey—are organic, archaeologists have identified the presence of beekeeping at pre-Columbian sites by the recovery of paired panuchos. Artifacts such as incense burners in the shapes of beehives, and images of the so-called Diving God, likely a representation of the bee god Ah Mucen Cab, have been found on the walls of temples at Sayil and other Maya sites.
The Madrid Codex (known to scholars as to the Troano or Tro-Cortesianus Codex) is one of the few surviving books of the ancient Maya. Among its illustrated pages are male and female deities harvesting and collecting honey, and conducting various rituals associated with beekeeping.
The Aztec Mendoza Codex shows images of towns giving jars of honey to the Aztecs for tribute. 
Current Status of American Bees
While beekeeping still practices by Maya farmers, because of the introduction of the more productive European honeybee, the loss of forest habitat, the Africanization of bees in the 1990s, and even climate change bringing destructive storms into the Yucatan, stingless beekeeping has been severely reduced. Most of the bees farmed today are European bees. 
Those European honey bees (Apis mellifera) were introduced in the Yucatan in the late 19th or early 20th centuries. Modern apiculture with bees and using moveable frames began to be practiced after the 1920s and making Apis honey became a principal economic activity for the rural Maya area by the 1960s and 1970s. In 1992, Mexico was the fourth largest honey producer in the world, with an average annual production of 60,000 metric tons of honey and 4,200 metric tons of beeswax. A total of 80% of the beehives in Mexico are kept by small farmers as a subsidiary or hobby crop.
Although stingless bee farming was not actively pursued for decades, today there is regrowth in interest and a sustained effort by enthusiasts and indigenous farmers who are beginning to restore the practice of stingless bee farming to the Yucatan. 
---
REFERENCES
---
Customers who bought this item also bought
---
If you enjoy this article and which to share with your  Facebook, Twitter, Instagram, and Pinterest friends please do so. 
Important Information
Legal Disclaimer
Actual product packaging and materials may contain more and different information than what is shown on our website. We recommend that you do not rely solely on the information presented and that you always read labels, warnings, and directions before using or consuming a product. Please see our full disclaimer below.
The information provided for this product is for educational purposes only. This information has not been evaluated by the Food and Drug Administration and is not intended to diagnose, treat, cure, or prevent any disease.
We recommend that you consult with your physician or qualified healthcare practitioner before making any significant change in your diet.
---