Description
---
ORANGE VANILLA EXTRACT 2X ORGANIC
Mannix Orange Vanilla Extract Organic is a blend of our 2x organic vanilla extract and organic orange extract. No additives. Organic vanilla beans in every bottle.
Orange Vanilla Extract
100ml/2x
---
Product Detail:
Mannix Orange Vanilla is an organic vanilla extract brewed to a 2x or double-strength through a natural, cold extraction process blended with natural orange extract. Although we never add sugar, colorings, or any other artificial ingredients, we do add organic beans to every bottle so the wonderful orange vanilla flavor continues to improve with age. The beans in the bottle and our beautiful, imported Italian bottles make our vanilla extract visually appealing and will enhance any recipe. Our extracts, if stored properly in your kitchen cabinet, have an indefinite shelf life. Chefs or cooks, contact us for information about our 500 ml bottle.
Ingredients: Natural orange extract, organic vanilla beans, organic 2x vanilla extract. No artificial ingredients or sugar added.
Mannix Organic Vanilla Products
---
Soft and Chewy Vanilla-Orange Cranberry Cookies Recipe
These cookies remain beautifully soft for days, and their flavor is outstanding: bold orange and cranberry, complemented by a hint of aromatic vanilla.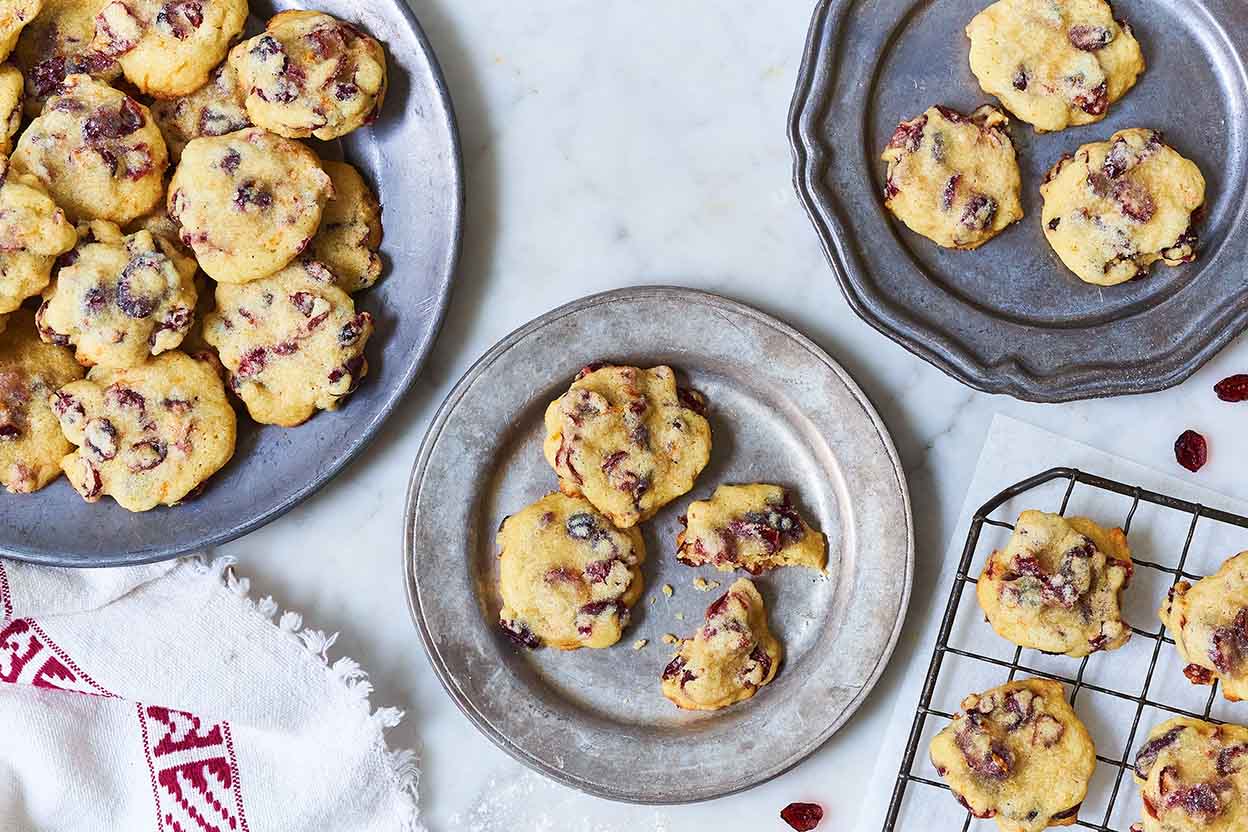 Ingredients
1/2 cup (8 tablespoons) butter

3/4 cup sugar

grated peel of 1 medium to large orange

1 teaspoon Mannix Orange vanilla extract

1/4 teaspoon baking powder

1/2 teaspoon salt

1 large egg

1 1/2 cups King Arthur Unbleached All-Purpose Flour

2 cups dried cranberries; or a mixture of dried cranberries and toasted chopped walnuts or pecans
Instructions
Preheat the oven to 425°F. Lightly grease two baking sheets, or line them with parchment.

In a large bowl, beat together the butter, sugar, orange peel, vanilla, baking powder, and salt.

Beat in the egg. The mixture may look slightly curdled; that's OK.

Add the flour and dried cranberries (or cranberries and nuts), stirring until well combined.

Drop the dough by heaping teaspoonfuls onto the baking sheets, leaving about 1 1/2″ between them. A level teaspoon cookie scoop works very well here; dough balls will be about 1 1/4″ in diameter. Using the flat bottom of a glass dipped in sugar, flatten the cookies slightly, to a scant 1/2″ thick.

Bake the cookies for 6 to 7 minutes, until they're barely set, and a light golden brown around the edges. Don't over-bake; if you do, the cookies will be hard, not soft and chewy. Gently lift one of the cookies and look at the bottom; if you've used parchment, it shouldn't be brown. If you're baking on a dark cookie sheet without parchment, it should be light (not dark) brown.

Remove the cookies from the oven, and cool them right on the pan. If you need a pan to bake the remainder of the cookies, give the cookies about 5 minutes to set before transferring them to a rack to cool completely.
SOFT AND CHEWY VANILLA-ORANGE CRANBERRY COOKIES
If you enjoy this article and which to share on your Facebook, Twitter, Instagram, G+ and Pinterest friends please do so. Also if you need a recipe with Xcatic Pepper contact us.
---
Important Information
Legal Disclaimer
Actual product packaging and materials may contain more and different information than what is shown on our website. We recommend that you do not rely solely on the information presented and that you always read labels, warnings, and directions before using or consuming a product. Please see our full disclaimer below.
The information provided for this product is for educational purposes only. This information has not been evaluated by the Food and Drug Administration and is not intended to diagnose, treat, cure, or prevent any disease.
We recommend that you consult with your physician or qualified healthcare practitioner before making any significant change in your diet.
---