Description
---
CAMOTES POBLANOS – SWEET POTATO CANDY
Sweet Potato Candy Puebla Style Delicious Camotes Poblanos, After the Santa Clara cookies, here are the Camotes from the Santa Clara convent in Puebla; these Mexican sweets were also attributed to the nuns from that convent. Camote is the Spanish word for sweet potato, and this, of course, is the main ingredient of this candy; although it is sold in Mexico with a whole array of fruit flavors such as lime, strawberry, orange.
Obviously, the nuns of XVII century Puebla, the likely creators of camotes Poblanos (sweet potato candy) liked to live on the edge. Like convents and monasteries everywhere, convents in Mexico produced specialty food items to supplement their income, and many of Mexico's sweets owe their popularity to enterprising nuns.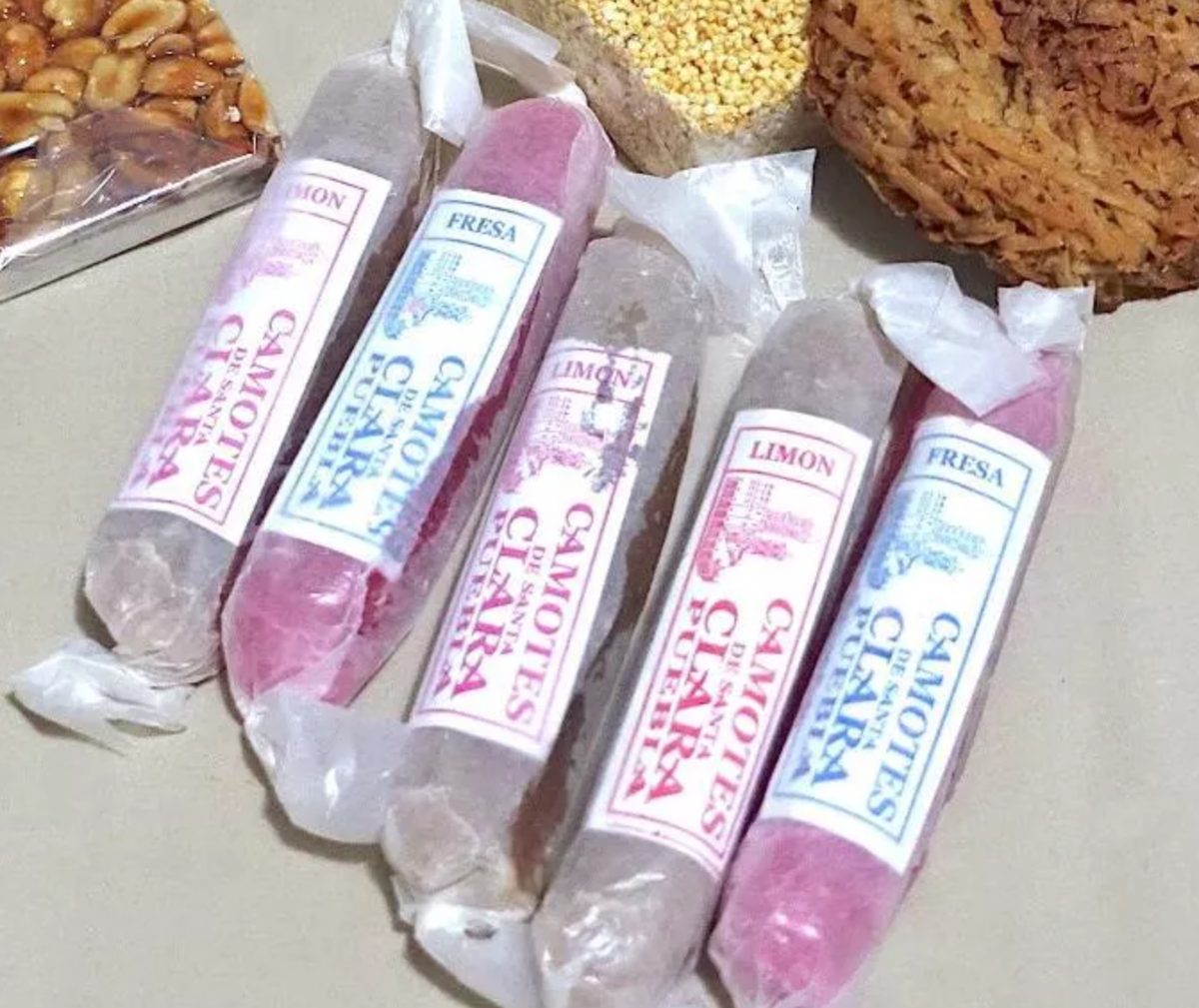 There is a rule in caramel making. Against all logic, at least once or maybe twice, the caramel maker will stick their finger into a molten batch of caramel. Caramel, I am convinced, is much like standing at the edge of a precipice. The longer you stare at it, the more tempting it is.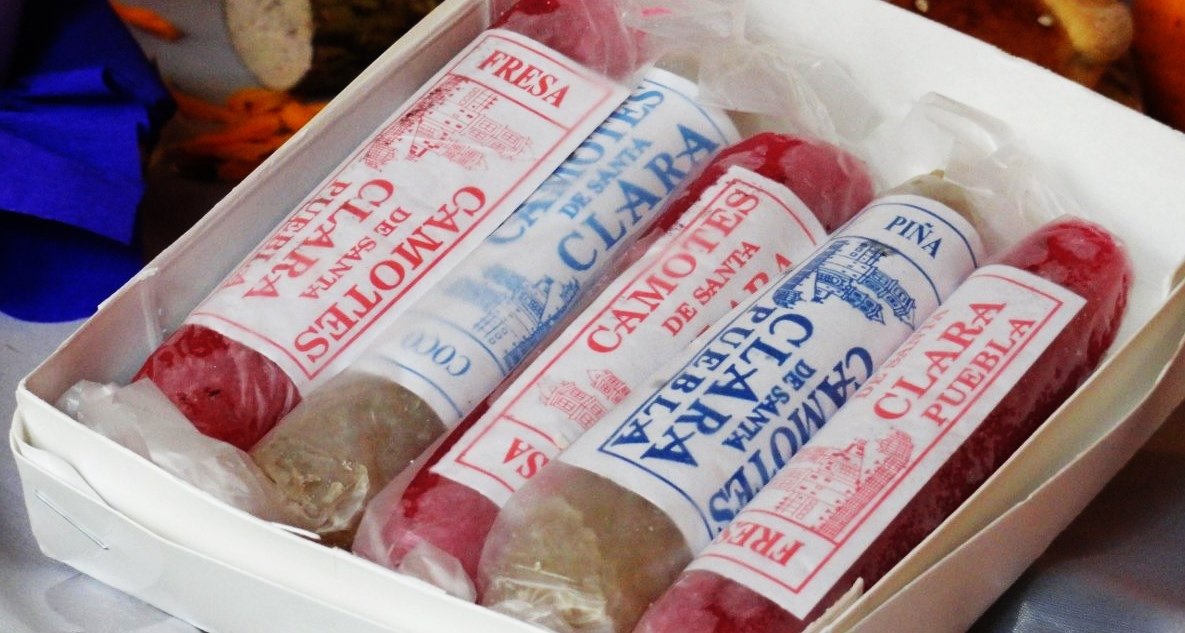 When making caramel, I stare fixedly, almost unblinkingly at it. Everything else stops until that caramel is finished. It has to. Caramel is a jerk that will turn on you the moment you take your eye off of it, much like a homicidal house cat.
Unlike the homicidal house cat, caramel and candy making can be very rewarding. There is no other reason why an otherwise logical individual would choose to stand for a seemingly endless amount of time stirring a bubbling mixture of melted sugar and sweet potato mash capable of bursting into volatile splatter the moment the spoon is put down.
---
Dulce

de Camote Poblano – Puebla Style Sweet Potato Candy
Difficulty: Medium
500 g (approx. 1 lb. 2 oz) sweet potato

500 g (2 1/2 c) granulated sugar

1 c water

Juice and zest of 1 large lime, or 2 key limes

Confectioners sugar, as needed

Parchment or wax paper
Cook the sweet potatoes in a 400ºF oven until very soft. When cool enough to handle, peel the potatoes and pass through a potato ricer or food mill. Add the lime zest and juice, mixing well.
While the sweet potatoes are cooling, place the sugar and water in a 3-quart stainless steel pot. Cook over medium heat until the caramel reaches hard ball stage, between 250 to 265ºF. Test the caramel with a candy thermometer, or by pouring a small amount into a glass of water and pushing into a small ball with a spoon.
Remove the caramel from the heat, and very carefully, mix in the pureed sweet potato and lime mixture. Return the heat and cook while stirring continuously, over medium heat, until the mixture is very dry and the bottom of the pot is easily visible while stirring. The candy should stick to the spoon, and if any drops it should be in a large and sticky dollop.
Line a baking tray with parchment or wax paper. Pour the candy onto the tray and spread in an even layer. Allow cooling completely.
Cut 20 pieces of parchment or wax paper into 3″ x 4″ rectangles. Dust the working surface and hands lightly with confectioners sugar. Pinch off a small piece of candy, rolling smooth and forming a small log on the sugared surface. Place on a paper rectangle. It is easier and faster to shape all the candy before wrapping individually. When wrapping, place the candy log at the bottom of a long edge. Roll the candy. Pinch the ends and twist in opposite directions.
The candy should keep for two weeks. If it lasts that long.
---
Customers who bought this item also bought
---
Packing Details
Vacuum packing is a method of packaging that removes air from the package prior to sealing. Shrink film is sometimes used to have a tight fit to the contents. Vacuum packing reduces atmospheric oxygen, limiting the growth of aerobic bacteria or fungi, and preventing the evaporation of volatile components.
Unit Type:

P

iece

Carton Box

Package Weight:

4 lbs

Package Size:

13.11in x 12.67in x 3.93in
---
If you enjoy this article and which to share with your Facebook, Twitter, Instagram, G+ and Pinterest friends please do so.
Important Information
Legal Disclaimer
Actual product packaging and materials may contain more and different information than what is shown on our website. We recommend that you do not rely solely on the information presented and that you always read labels, warnings, and directions before using or consuming a product. Please see our full disclaimer below.
The information provided for this product is for educational purposes only. This information has not been evaluated by the Food and Drug Administration and is not intended to diagnose, treat, cure, or prevent any disease.
We recommend that you consult with your physician or qualified healthcare practitioner before making any significant change in your diet.
---