Description
---
TAMALE STEAMER ALUMINUM
Tamale Steamer Aluminum, Tamales are a traditional Mexican dish that was inherited by the ancient Indians of Mesoamerica, although who actually invented the tamale and when, is not known for certain, but it is known that they have existed since pre-Columbian days. It was the food of choice among the Aztecs and Spaniards, because of how portable and easy it was to heat.
Though all tamale variations are similar, the preparation and style for Mexican tamales (tamales Mexicanos) varies by region. There are numerous amounts of tamales recipes and methods to prepare this delicious and traditional food, the most common way to prepare them is by steaming. Special pots are used to cook the tamales which are called Tamale Steamers or Tamale Cookers.
In order to use a Steamer (Tamale Pot), you must add enough water to the pot in order to produce the right amount of steam as well as keeping the level low enough so it doesn't touch the tamale rack. Position the tamales on the rack while making sure to leave enough room for each so the tamales don't fall over as they steam when the tamale dough expands. Place the lid on the steamer, bring it to a boil and adjust the heat, steam for approximately two hours and check frequently to prevent the water in the pot from going dry.
To make sure they are done, remove a tamale from the steamer and peel back the husk if the tamale dough easily separates from the husk and the surface is smooth this most likely means the tamales are done. If you are unsure taste the tamale to test the doughs consistency and make sure it is fully cooked.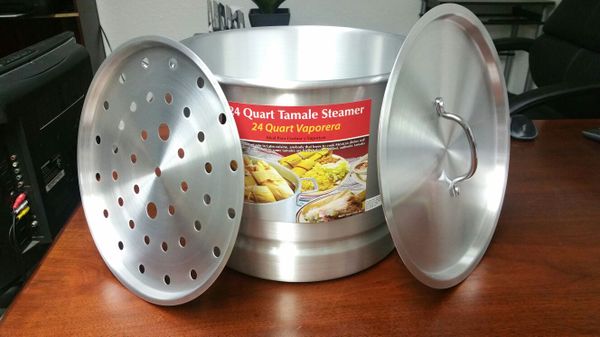 Tamale and Steamer Pots are versatile and durable for large-batch cooking. Use your stock pots for soups, stews, stocks, beans, lentils, sauces, and pasta. They are even big enough for tons of corn on the cob or a lobster boil.
Tamale Steamer Aluminum Features
Made of Aluminum.

Removable Steamer Insert.

Large Capacity.

Doubles as Stock Pot without Insert.
Tamale Making
The preparation of tamales first begins with the dough (masa) that is made from nixtamalized corn or a masa mix can be used instead, like Maseca's Tamale Corn Mix. The masa is wrapped in the husk leaves included before being cooked, and savory or sweet filling is then added to the dough. Then use the Maseca tamale masa spreader for a perfect spread of the dough to make one tamale in each corn husk.
Instant corn masa mix

Masa spreader

Corn Husks
If you enjoy this article and which to share with your Facebook, Twitter, Instagram, G+ and Pinterest friends please do so. Also if you need a recipe with Xcatic Pepper contact us.
---
Today Best Selling
---
Important Information
Legal Disclaimer
Actual product packaging and materials may contain more and different information than what is shown on our website. We recommend that you do not rely solely on the information presented and that you always read labels, warnings, and directions before using or consuming a product. Please see our full disclaimer below.
The information provided for this product is for educational purposes only. This information has not been evaluated by the Food and Drug Administration and is not intended to diagnose, treat, cure, or prevent any disease.
We recommend that you consult with your physician or qualified healthcare practitioner before making any significant change in your diet.
---