Description
---
VANILLA BEAN POWDER
Vanilla Bean Powder is made from hand-picked vanilla beans and contains no alcohol. The benefit of using this vanilla powder in place of vanilla extract is that the vanilla powder will give your baked products or drinks a natural vanilla taste without the aftertaste of alcohol.
Examine the color of this powder compared to lighter powders. The darker the vanilla powder, the purer it is. Vanilla powders that are light in color contain very little vanilla extractives and are often substituted with other flavor ingredients. This powder is excellent with cereals, teas, berries, french toast, and a wide variety of baking recipes. Blend this powder into a latte, coffee, or hot cocoa for a wonderful flavor and vanilla aroma.
Mexican Vanilla Powder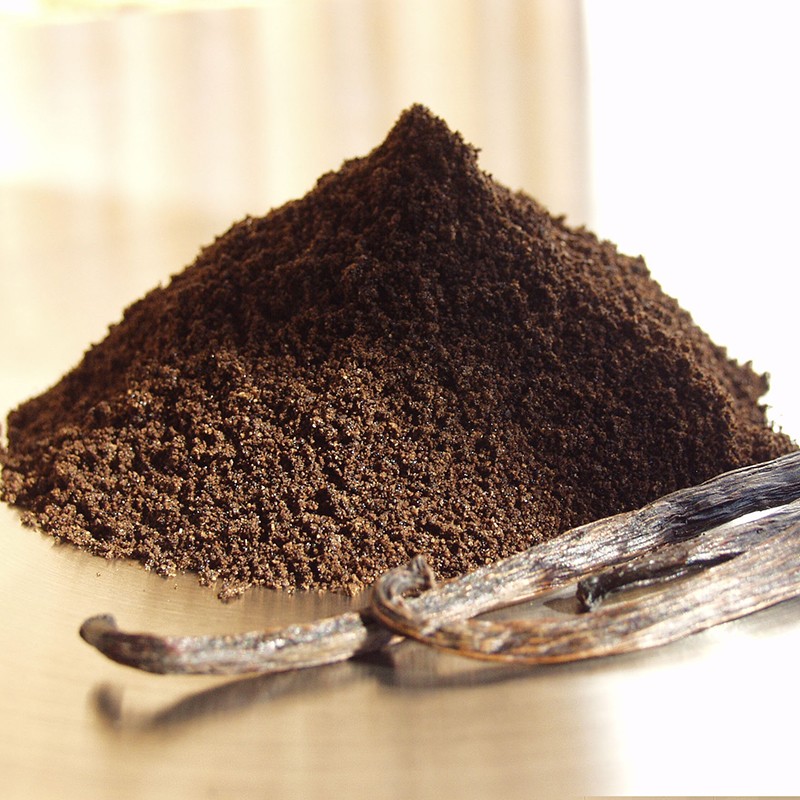 Mexican Vanilla Powder Grade B is ground into a fine dust then combined with corn sugar to create this unique powder. Use it as a gluten and alcohol-free alternative to extracting. Combine it in a shaker with cinnamon sugar to add a delicious twist to your morning cinnamon toast. Dust it on waffles, pancakes, french toast or oatmeal.
How do you make vanilla bean powder?
Turn the oven to 140°C (130°C fan forced).

Line a baking tray with baking paper.

Place 3 to 4 vanilla pods onto the tray and bake for 1 hour or until dried out.

Allow the beans to cool.

Then using a Thermomix or spice grinder turn the whole dried vanilla bean into a fine powder.
Is vanilla powder the same as vanilla extract?
Vanilla powder is made from dried and powdered vanilla beans and has a same distinctive vanilla flavor as an extract. There is no sugar or alcohol and it dissolves quickly in hot or cold liquids.
How much vanilla powder do I use?
Substitute for Vanilla powder. Substitute half the amount of extract (if recipe calls for 1 tsp extract, use 1/2 tsp powder).
---
Vanilla Bean Cheesecake with White Chocolate Mousse
Not just another cheesecake recipe …This Vanilla Bean Cheesecake is incredibly rich and decadent, with the perfect creamy cheesecake consistency!
Please note that when the cheesecake first comes out of the oven, the center will be very jiggly, that is normal. Let it cool for an hour at room temperature and then put in fridge overnight to set up.
1.5 hrs to make, serves 8
1½ cups finely crushed graham crackers

¼ cup light brown sugar

1 stick unsalted butter, melted

½ teaspoon vanilla extract
16 oz. cream cheese softened

2 sticks unsalted butter, softened

1 cup granulated sugar

1 cup sour cream

2 Tablespoons cornstarch

1 vanilla bean pod, beans extracted or 1 T vanilla bean paste
4 oz. white chocolate baking squares

1 cup heavy whipping cream

4 Tablespoons powdered sugar

4 oz. cream cheese softened
INSTRUCTIONS
Preheat oven to 375° and line a spring-form pan with parchment paper.

In a medium bowl, combine crushed graham crackers and brown sugar and mix with a fork

Add the melted butter and vanilla extract and mix until fully incorporated

Press into the bottom of the lined spring-form pan and bake for 8-10 minutes

Remove from oven and let cool
Preheat oven to 320°

In a stand mixer, beat the cream cheese, butter, and sugar until light and fluffy

Add the sour cream, cornstarch, and vanilla beans and mix until the mixture is smooth and creamy

Pour over the graham cracker crust and bake for one hour. The filling will be jiggly in the center when you remove from oven

Remove from the oven and place on a heat-safe surface for one hour. Do not remove the spring-form pan. You will remove it right before serving!

Place into the refrigerator overnight to set, or at least 6 hours
Place mixing bowl in freezer or refrigerator to chill

Melt white chocolate squares and let cool

In the cold mixing bowl, beat the heavy cream until it forms soft peaks, gradually add powdered sugar and continue whipping until it forms stiff peaks

Place in refrigerator to keep chilled

In another bowl, beat the melted white chocolate and cream cheese together with a spatula until light and fluffy.

Take the whipped cream and stir it in the white chocolate and cream cheese mixture. You do not have to be gentle while stirring. Don't be afraid to stir vigorously!

Place back into the refrigerator to chill overnight. Keep refrigerated until you are ready to put the mousse on the cheesecake

Once you are ready to serve, spread the mousse over the top of the cheesecake and then remove the spring-form pan and the parchment paper

Top with whipped cream, berries, chocolate or all three!
VANILLA BEAN CHEESECAKE
If you enjoy this article and which to share with your Facebook, Twitter, Instagram, G+ and Pinterest friends please do so. Also if you need a recipe with Xcatic Pepper contact us.
---
Important Information
Legal Disclaimer
Actual product packaging and materials may contain more and different information than what is shown on our website. We recommend that you do not rely solely on the information presented and that you always read labels, warnings, and directions before using or consuming a product. Please see our full
disclaimer
below.
The information provided for this product is for educational purposes only. This information has not been evaluated by the Food and Drug Administration and is not intended to diagnose, treat, cure, or prevent any disease.
We recommend that you consult with your physician or qualified healthcare practitioner before making any significant change in your diet.
---