Description
---
VANILLA BEANS GRADE B
Mexican Vanilla Beans Grade B (also called extract beans) contain significantly less moisture and are less attractive. They are smaller and contain many imperfections (splits and cracks), unlike our premium Grade A beans. Mexican Vanilla Beans are rich and smooth with subtle tones of smoke and spice.
Vanilla Bean Grade B
These vanilla beans are very distinct, with a flavor and aroma profile that make these beans the most popular and sought after vanilla variety.
Long coveted for its delicious flavor and tantalizing scent, vanilla beans grade B has been one of the world's most precious spices for thousands of years.
Our vanilla beans grade B instantly fill the air with a delicious enticing fragrance, reminiscent of one of the seven exotic locales where we source our beans.
Grade " B " Pompona
The Spanish first discovered Vanilla in Mexico, where it grew wild on the fringes of tropical forests. Known as a principal flavoring agent, the Aztecs used it in chocolate drinks and the Spanish added it to sangria.
Mexican Vanilla Beans Grades
---
How To Use a Vanilla Bean
Use the seeds immediately: The scraped seeds can be mixed right into your recipes along with the other ingredients. Use them right away.
Use the empty pod: The scraped-out pods can be used to infuse milk or cream with subtle vanilla flavor, or you can stick them in a jar of sugar to make vanilla-scented sugar.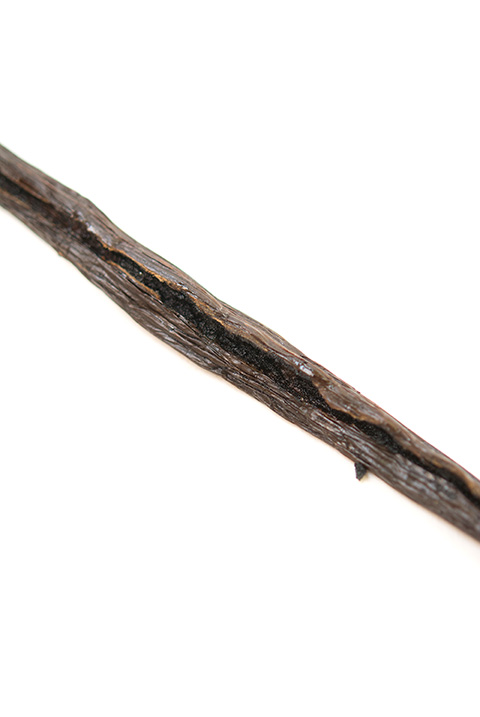 Vanilla beans are magical
Vanilla beans are magical. Not only do they look like fairy wands and have an aroma that always brings me to a standstill, but these beans have the ability to transform scoops of ice cream into childhood memories and dishes of crème brûlée into marriage proposals. They are definitely not to be squandered or taken for granted. Let's talk about how to make the most of a vanilla bean when you have a recipe that calls for one.
Why Vanilla Beans Are So Special
Vanilla beans are the fruits of a few very particular kinds of orchids, and they require special growing conditions and careful handling to thrive. Once harvested, the pods also have to be dried, cured, and then aged — all before becoming the baking ingredient we know and love.
This means that real, whole vanilla beans are one of the most expensive spices in our cupboards. But vanilla beans return the favor by providing us with such rich, intense aromas and flavors in our baked goods. They're a special ingredient, but worth it.
Buy Plump, Glossy Vanilla Beans
If possible, buy your beans where you can see them and feel them through the packaging. Look for the plump vanilla beans that look glossy on the outside and bend a little when you touch them. Beans that are desiccated, dull-looking, or brittle are too old and it will be very hard to scrape out the beans inside.
---
Store Vanilla Beans Away from Heat or Light
Store vanilla beans grade B at room temperature away from heat or sunlight, like in a cupboard. If you have leftover unused vanilla beans after opening the package, store them in a plastic bag with the air pressed out or in a vacuum-sealed bag.
As tempting as it might be to stash vanilla beans grade B away for a special occasion, they are best when used within a few weeks of buying them. Beans will slowly dry out over time, even if kept sealed in their original packaging, so use them while they're still at their best.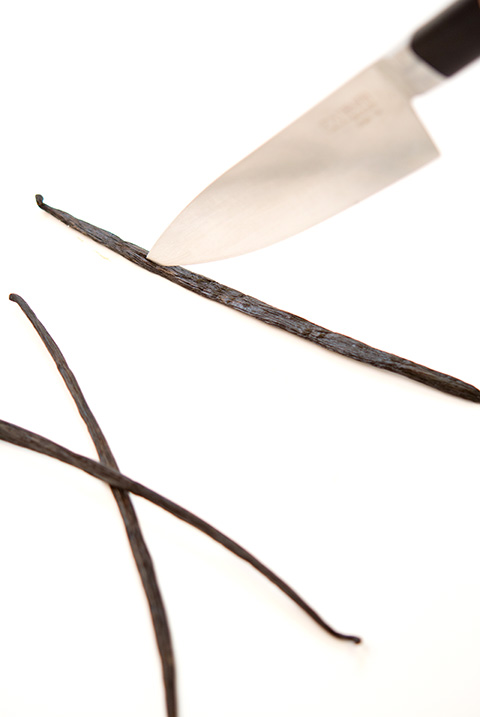 Scrape the seeds out
Using Real Vanilla Beans in a Recipe
Wait to scrape the seeds out of the vanilla pod until you're ready to use them. They can be mixed right in along with the rest of the ingredients — no other preparation required. When you serve your recipe, you'll see the tiny black flecks of vanilla bean dispersed throughout.
One vanilla bean is roughly equivalent to about 3 teaspoons vanilla extract, so if you're substituting one for the other, you may only need part of a vanilla bean to make a recipe calling for extract — this said, a little extra vanilla bean generally doesn't hurt! The extra seeds will give your recipe a warm, rich, fully infused vanilla flavor.
Use Your Vanilla Pods!
For baking, we're usually most interested in the tiny seeds inside the vanilla pod, but the pods themselves have a lot of flavors, too. You can use the scraped-out pods to infuse milk or cream with subtle vanilla flavor, or you can stick them in a jar of sugar to make vanilla-scented sugar. You can get some life out of any forgotten, dried-out pods unearthed from your cupboard in these ways, as well.
---
How To Scrape the Seeds from a Vanilla Bean
What You Need
Ingredients
1 vanilla bean
Equipment
Cutting board
Paring knife
Instructions
Split the vanilla bean down its length using the paring knife.
Scrape out the seeds: Working with one half at a time, hold down the tip of the bean against the cutting board. Use the dull side of your paring knife — not the sharp side — and scrape the vanilla beans from the pod. Move from the tip of the pod, where you are holding it, and scrape down the entire length.
Use the seeds immediately: scrape the seeds out can be mixed right into your recipe along with the other ingredients. Use them right away.
Use the empty pod: The scraped-out pods can be used to infuse milk or cream with subtle vanilla flavor, or you can stick them in a jar of sugar to make vanilla-scented sugar.
Store unused vanilla beans: Store unused pods in a plastic bag with the air pressed out or in a vacuum-sealed bag. Use within a few weeks; the pods will gradually dry out over time.
Scrape the seeds out
---
Recipe: Apricot-Vanilla Bean Jam
Flecked with real vanilla bean, this brilliantly hued apricot jam is summertime in a jar — and it makes the most beautiful edible gift.
Cut the apricots into halves!
Makes about 4 cups
2 pounds ripe apricots




1/4 cup water




Small wedge fresh lemon




2 1/2 cups granulated sugar




1 to 2 vanilla beans
Cut the apricots in half and remove the pits. Place apricot halves, water, the juice of the lemon, and the lemon rind itself in a large non-reactive pot. Stirring intermittently, cook over medium-high heat until the juices begin to boil. Reduce the heat, cover, and simmer until the apricots are soft and tender, 5 to 10 minutes.
Once soft and tender, stir in the sugar. Split the vanilla beans down their length, scrape out the seeds, then add both the seeds and the pods to the pot. Increase the heat back up to high and bring to a rolling boil. Clip on a candy thermometer and continue to cook, while stirring, until the jam thickens and reaches about 220°F.
Carefully remove the vanilla bean pods and lemon rind. Ladle the jam into clean 4-ounce, half-pint, or pint-sized glass jars and store in the refrigerator for up to 3 weeks.
Recipe Notes
Taste your fruit first to check for ripeness and sweetness. Additional sugar may be required.

This recipe keeps the skin on the apricot before cooking. You can remove the skins before cooking if you like.

To check for doneness, place a small plate in the freezer when you start the recipe. As the jam nears completion, place a small amount on the plate and return the freezer. If the jam wrinkles as you nudge it, it is done.
Make It! Small-Batch Apricot Jam
---
Important Information
The information provided for this product is for educational purposes only. This information has not been evaluated by the Food and Drug Administration and is not intended to diagnose, treat, cure, or prevent any disease.
We recommend that you consult with your physician or qualified healthcare practitioner before making any significant change in your diet.
Legal Disclaimer
Actual product packaging and materials may contain more and different information than what is shown on our website. We recommend that you do not rely solely on the information presented and that you always read labels, warnings, and directions before using or consuming a product. Please see our full disclaimer below.
---